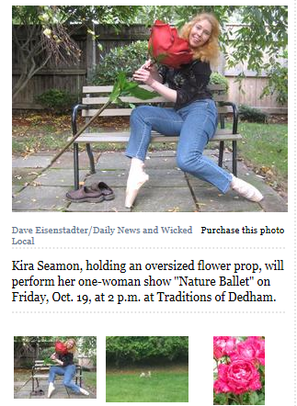 PRESS Quotes and Articles
BOSTON GLOBE
-BOSTON GLOBE'S Karen Campbell:
- "Choreographer/dancer Kira Seamon puts her considerable ballet training to the service of two new pieces..."
- "Ambitious young dancer/choreographer/pianist Kira Seamon..."
- "Kira Seamon's latest dance production is anchored by a collaboration with New England Light Opera..."
-"Dancer/choreographer Kira Seamon puts her own spin on"...
BOSTON PHOENIX
"Johann Strauss' operetta is brought to life with Seamon's arias and music..."
CONCORD JOURNAL
"some of the area's most talented choreographers...Kira Seamon"...
DAILY NEWS TRANSCRIPT
"World class ballerina Kira Seamon..."
IMPROPER BOSTONIAN
-"Kira Seamon presents her blend of ballet and dance theater with the works
Arias and Arabesques and the Tell Tale Heart
based on the story be Edgar Allan Poe"...
HOLLISTON REPORTER
Article contributed by Karyn Edison
-"The Dancing Arts Center of Holliston, known for its excellent teaching staff, welcomes Kira Seamon..."
-"Ms. Seamon will bring her knowledge and enthusiasm for ballet stories to life"...
-"...has been hired to implement the Dancing Arts Center's curriculum, with her own personal exuberance..."
-"Come by to welcome Kira to Holliston. After you meet her you will feel transformed into a magical being and want to dance all the way home. Her infectious love of dance will leave you wanting more."

DAILY NEWS TRANSCRIPT: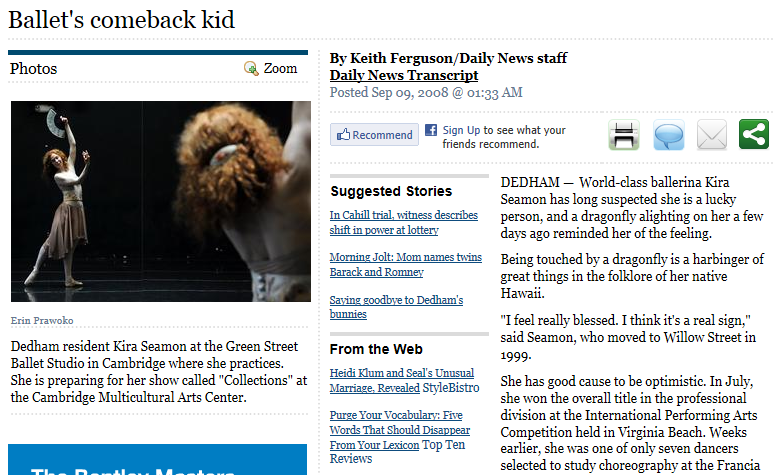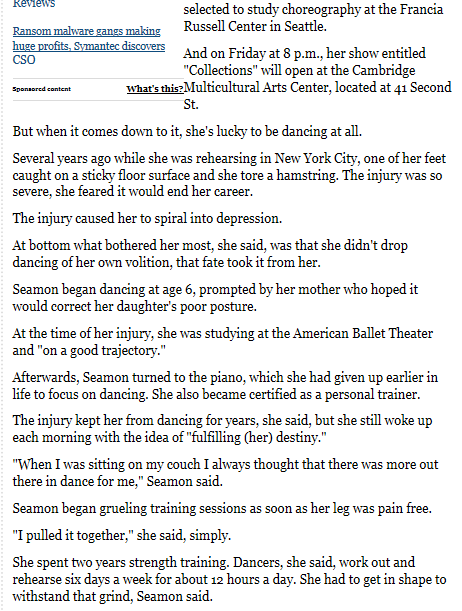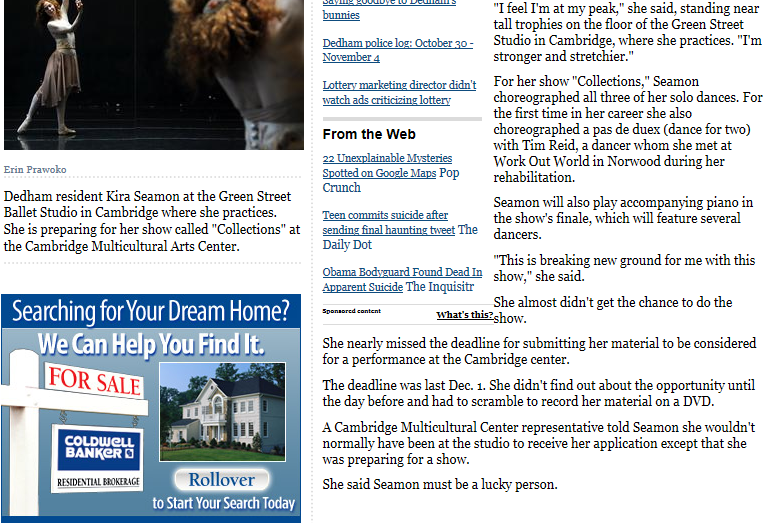 DEDHAM TRANSCRIPT: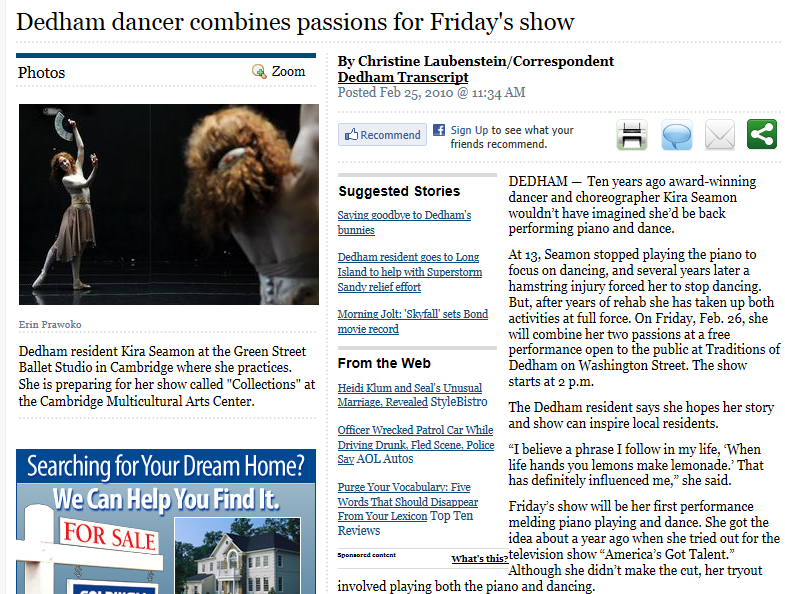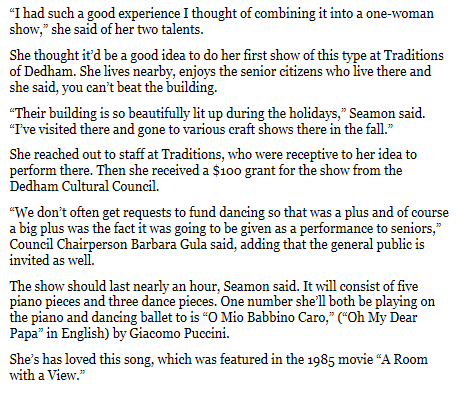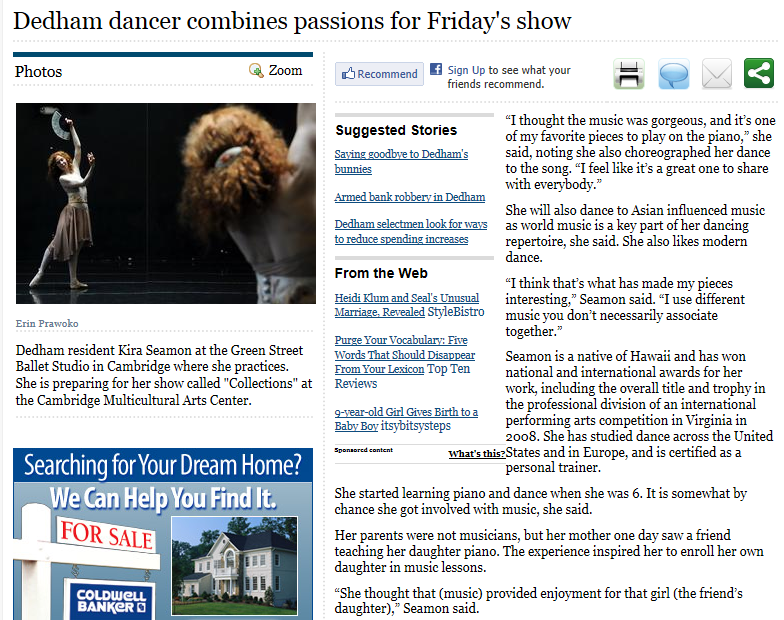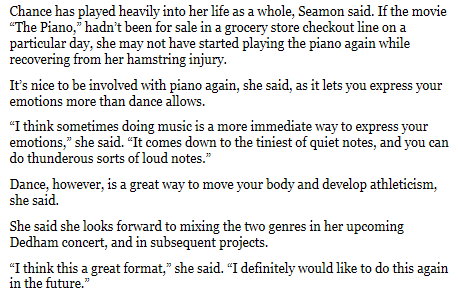 DEDHAM TRANSCRIPT: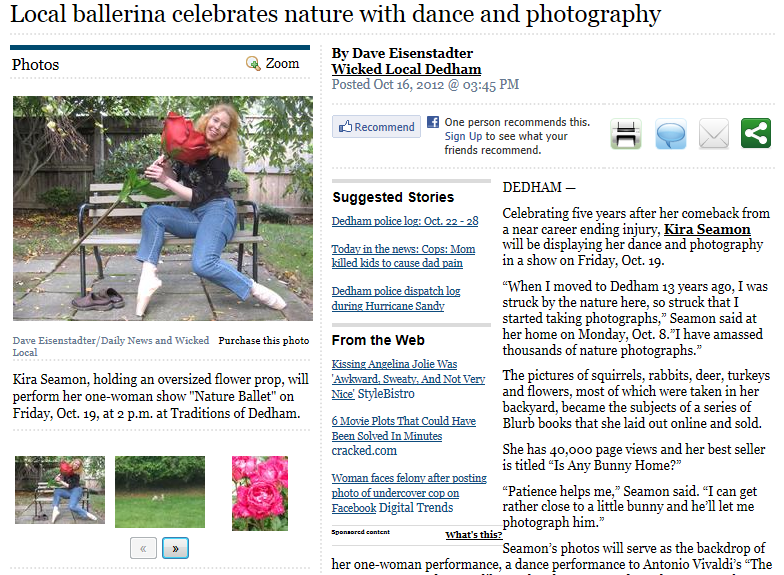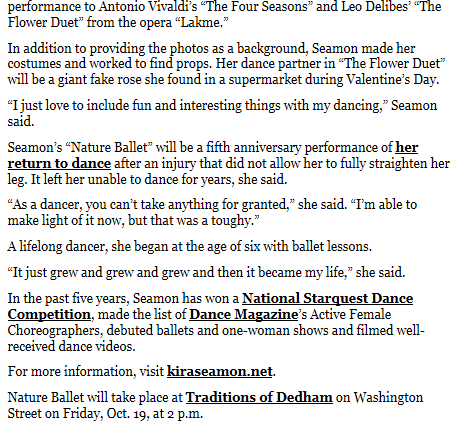 KID'S CORNER!!!!

Check out these beautiful children's books in my BOOKSTORE on Blurb.com!
Search: Kira Seamon OR dancerpics

BUY THE BOOKS!

Watch some of the children's book covers in the slideshow below!

Check out my beautiful Children's Blog: kidkaleidoscope.blogspot.com
Search: KIRA SEAMON'S Kaleidoscope
Info posted about children's books, films, dance and movement classes and MORE!

FUNNY BUNNY Films on Youtube! Check out kirafunnybunny to watch adorable wild bunny videos. All films feature my own piano playing in the background!
http://www.youtube.com/user/kirafunnybunny

Let your IMAGINATION unfold!